Tiger Woods has won 4 times already in 2013 and if his recent form at The Players is any indication, he's clearly on top of all aspects of his game. Off the golf course Tiger is clearly in a better place as well. He recently went public with his relationship with Olympic Gold Medalist, Lindsay Vonn and has been seen enjoying the fruits of his labor off the course in Lindsay's company.
But potentially most indicative that Tiger Woods is "back" can be seen in the recent spat between Sergio Garcia and Woods. Garcia, who took issue with Woods for a perceived breach of golf course etiquette during the third round of The Players Championship two weeks ago, was asked in jest at a European Tour function if he would be inviting Woods to dinner during next month's U.S. Open.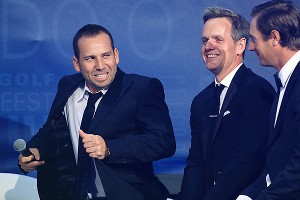 "We'll have him round every night," Garcia said, according to The Guardian, a British newspaper. "We will serve fried chicken."
Now if this sounds somewhat familiar, it's because we've been down this path before. A similar comment got Fuzzy Zoeller in trouble following the 1997 Masters, when he quipped that fried chicken would be served at the following year's champions' dinner, which Woods would host as defending champion.
According to The Guardian, Garcia left the European Tour awards dinner Tuesday night at the BMW PGA Championship in Virginia Water, England, before he could be questioned. He later issued a statement through the European Tour.
"I apologize for any offense that may have been caused by my comment on stage during the European Tour Players' Awards dinner," Garcia said. "I answered a question that was clearly made towards me as a joke with a silly remark, but in no way was the comment meant in a racist manner."
While all of this is going on, Tiger Woods is relaxing in S. Florida fishing with Lindsay Vonn and friends. When he's not relaxing he's likely practicing in his backyard where he has several golf holes and short game area. Is he paying attention to his "ole buddy" Sergio? It's safe to say he thinks of Sergio only when the media brings him up.
Tiger held a Media Day for the upcoming AT&T National this week and when asked if he would reach out to Garcia to clear the air, Woods drew laughter when he simply said: "No." Simply put, Tiger's not worried about anybody else these days, including "wanna be" major champions like Sergio Garcia. While Sergio deals with the fallout of his irresponsible comments on stage in Europe, Tiger will continue doing what Tiger Woods does. He'll just keep getting better.