Shawn Jasper enters the final round of the 2013 Metropolitan Open Championship Presented by Plaza Motors with a one shot lead over Christian Heavens and Chris Thompson. Jasper posted Even Par, 70, in the 2nd round and sits at -4 thru 36 holes.
Jasper will be looking to win his 3rd Metropolitan Open Championship and in wire to wire fashion if he is able to hold off a strong group of pursuers on Saturday at The Country Club of St. Albans.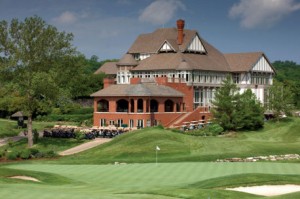 Paired with Jasper in the final round will be Christian Heavens. Heavens is a former member of the First Tee Program of St. Louis and has enjoyed a solid start to his professional career. Heavens posted the low round on Friday with a 4-under 66. Heavens made the turn on Friday at +3 for the championship before an outward nine of 29 on the front nine holes and St. Albans. Heavens front nine featured back to back eagles on the par 4, 5th hole and par 5, 6th.
Tied with Heavens at 3-under is Chris Thompson of Lawrence, KS. Thompson made four consecutive birdies beginning at the par 3, 4th hole. After two pars at 8 and 9, he made an impressive birdie on a very difficult hole location on the par 4, 10th. After a par on the 494, par 4 11th hole, Thompson made his 6th birdie of the round at the par 3, 12 to reach 7-under par for the championship. Unfortunately Thompson finished with 4 bogeys over his final six holes.
Two players starting the final round 2 back of Jasper are Timothy O'Neal and Jace Long who both posted 67 on Friday. Long made birdie on 4, eagle on the par 4, 5th and another birdie at 8 to finish his day -2 for the championship.
A total of 46 players made the cut, 34 professionals and 12 amateurs.  Alex Cusumano followed up a first round 69 with a 71 on Friday to earn low amateur honors heading into the final round. Past Champion Skip Berkmeyer and top Gateway PGA Professional Bob Gaus posted two totals of 146 and sit 10 shots back of Jasper after two rounds.  Last year's champion Mitchell Gregson made the cut on the number at 147 after a second round 72.
Former Metropolitan Amateur Champions Garrett Sneed and Adam Long are also in the group at 146.
JC Anderson, who will be playing in the PGA Championship in August, bounced back from a disappointing first round 76 to post 71 on Friday and make the cut at 147.
Former PGA Touring Professional, Jay Delsing followed up Even Par 7o on Thursday with a 72 on Friday and trails Jasper by 6.
Saturday's final round will feature live scoring for the final groups and can be followed online at www.metga.org.