While we're big supporters of grow the game initiatives here at The Back Nine, not everything has to be for everybody. Case in point, the former Golf Club of Scottsdale is embracing change whether the members like it or not.
Bob Parsons, Founder of GoDaddy, purchased Golf Club of Scottsdale earlier this year for $600,000. It's not uncommon when a new owner takes over a club to expect a few changes in how the club operates. But the changes Parsons introduced in his recent letter to Members caught a few people by surprise.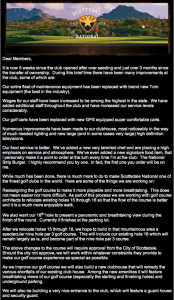 In his letter Parsons calls out members who are regular visitors to the club but recognized as providing minimal financial support. Now if you've been a member of a private club, you've seen the group who play golf everyday, drink the free coffee in the morning get a refill at the turn while grabbing a super sized cup of snack mix to eat on the back nine. After finishing their round the group sits in the bar playing gin rummy until early evening when they finally decide it's time order off the happy hour menu since they can get their soft tacos or potato skins for 1/2 off regular price.
But seriously, what golfer hasn't dreamed of doing exactly what Parsons is doing? Sure, it goes against the "let's include everyone" movement canvassing the golf world, but is what Parson's doing really all that bad? From my perspective, he's clearly casting a vision for what he wants his club to stand for and admirably he's willing to buy back the memberships of anyone who no longer believes the new Scottsdale National fits their needs.
For the sake of Scottsdale National Members lets just hope that Parsons has a succession plan in mind. It's one thing if Parsons is willing to subsidize his club in order to create the exclusive environment he desires. But as we've seen time and time again in the golf industry, unless Parsons has a group of Members that share his vision, the Scottsdale National as we're soon going to know it will be in jeopardy when Parsons is no longer in a position to lead the Club.