As a professional golfer if you are able to post the magic number of 59 over an 18-hole competitive round your name will find the historical record books.  But that's not the case for two players on the European Tour, a Tour where a 59 has never been recorded in competition.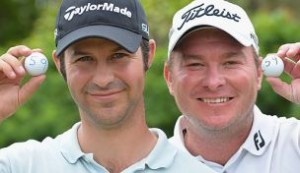 Colin Nel and Jorge Campillo not only fired 59, but did so on the same day at the Nelson Mandela Championship.  The two players shot 1-under 59s within 10 minutes of each other at Mount Edgecombe Country Club.  European Tour rules stipulate, however, that the 59s were not official because the round was played under preferred lies (lift, clean and place).
Nel shot 77 in the first round before an 18-stroke improvement in Round 2. Campillo's 70-59 put him in a share of the early midway lead with Matthew Baldwin, who carded 62 in the second round.
The tournament has already had two days of delays and suspensions because of heavy rain in Durban, South Africa.