Why not? It was those two words that Michael Block wrote on his golf ball on his first trip to a U.S. Open in 20o7.  Block made headlines when he holed out for eagle in his first round at a U.S. Open getting him featured front and center on ESPN's broadcast.
Block posted scores of 74-69 to enter the weekend -1. He'll tee off on the back nine on the South Course at Torrey Pines for round 3 at 8:35 PST alongside Bubba Watson and Stuart Appleby.
Follow Michael Block's 3rd round – HERE
Block is a former St. Louis District Golf Association Champion, winning in 1997 at Bogey Hills Country Club over Michael Wellington. Block's victory in the 1997 STLDGA marked consecutive years for UMSL Rivermen winning the championship. Dustin Ashby won his first District title in 1996 and caddied for his college teammate for the first 18 holes in the 1997 championship match.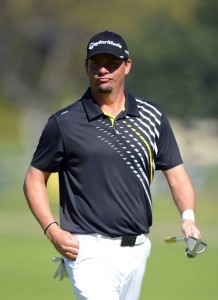 Block turned professional in 1998 and attended the San Diego Golf Academy, where he received a degree in Golf Course Management, with an emphasis in Teaching. Upon graduation, Michael started teaching at The Lakes Country Club in Palm Desert, California. Michael established himself as a preeminent desert golf instructor, working at The Lakes for six years before moving to Arroyo Trabuco Golf Club in 2004. Michael's charisma and engaging personality enable him to engage and connect with his students, increasing his student's effective interest and allowing for clear and effective instruction. Combining his professional golf experience and over a decade of instructional knowledge, Michael is able to work with golfers of all levels to increase their golf ability and lower their scores.
Michael lives in Orange County with his wife, Val, and his two sons. He holds four course records, played in the 2007 United States Open, and won the following events:
Holds Course Record (62) -10, at Arroyo Trabuco Golf Club
Played and made cut at 2013 Northern Trust Open at Riviera CC
Played in 2007 United States Open at Oakmont C.C.
Won 2001 California State Open
1998 St. Louis Amateur Championship
Qualified for the US Open Sectionals 7-times
Holds five Course Records
PGA Tour Record – Two Eagles during first round of the 2013 Northern Trust (LA Open)