Below is an email I received this morning from Roy Wilson of the St. Louis District Golf Association.  Along with so many friends of golf in St. Louis, Larry Etzkorn impacted my life in such a positive way.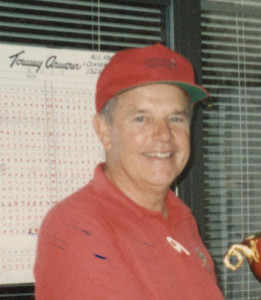 In 1996 I was just starting to realize my potential as a golfer. I had just missed out on a trip to Hawaii as part of the United States Golf Association Public Links Championship Qualifier at Forest Park. Immediately following the final round of the qualifying, after coming up a shot short of earning a spot in my first USGA championship, Tournament Director, Bart Collida and Larry Etzkorn approached me with an invitation to participate in an upcoming St. Louis District Golf Association Championship.  I'd never played in a STLDGA tournament as I was a public golfer, bouncing around on golf courses like Ballwin Municipal, Sunset Lakes and Paradise Valley.
Larry had followed my group at Forest Park almost the entire back nine as a rules official for the day. He was apparently impressed with what he saw and felt like I deserved an opportunity to tee it up in the St. Louis District Men's Championship he was hosting at The Country Club at the Legends the following week.
I would spend a lot of time with Larry that week at the Legends as I was fortunate to capture my first St. Louis District Championship title and become the first bona fide public golfer to win the championship.  As the Executive Secretary for the STLDGA, it was Larry who awarded me the trophy at the conclusion of that memorable week.
Winning that week helped me to find the confidence I needed to realize future success in golf. I'm truly grateful to Mr. Etzkorn for the opportunity he provided.
A week after the championship I received a special letter in the mail from Mr. Etzkorn, which I still have today. Mr. Etzkorn took the time to write and let me know how much he enjoyed watching me play golf a week earlier.  He projected great things for me in the game of golf and in his words showed a young man what true class was all about.
As I got older and continued to compete in St. Louis District Golf Association tournaments, among other amateur championships, Mr. Etzkorn would often be present as a rules official. Never a day went by that I would see Mr. Etzkorn that he wouldn't ask about my mom, who followed me shot for shot that week at The Country Club of the Legends. He would remind me of what my golf swing looked like that week in 1996, how much he enjoyed sharing that experience with me and send me off with an encouraging word.
St. Louis golf needs more people like Larry Etzkorn and I feel very lucky to have known the original himself.
——————————————————————————————————————————-
Email from Roy Wilson
Dear Golfers and Friends of the St. Louis District:
It is with much sadness that we inform you of the passing of past District Secretary and a longtime member and supporter of the District and area golf, Larry Etzkorn.  He died peacefully in his sleep this morning. As many of you know, over the past year Larry battled with pancreatic cancer. However, in his traditional high spirited nature and always good humor, he never let it get the better of him. His occasional appearances at local golf events brightened everyone's day.
Larry's involvement with golf goes back to his youth when he began as a caddie. In 1947, while caddying for Dutch Harrison at the U.S. Open at St. Louis CC, he had the pleasure of carrying a bag for Ben Hogan when he went out to play a few extra holes during practice rounds. The stories of his long association with men such as Jim Jackson were legendary.  For years, he played out of Normandie GC before moving to Algonquin GC. However, wherever he went, Larry continued to enjoy both golf and the card games that followed with his many friends. His knowledge of area golf history were of great inspiration when the history of golf in the region was first set to print. Those of us who were fortunate to call him a friend have certainly lost much today with his passing. Larry was Executive Secretary of the St. Louis District Golf Association 1984-1997.
The wake will be at Bopp Chapel on Manchester Road in Kirkwood on Sunday, May 31. The funeral will be at St. Peter's Catholic Church in Kirkwood on Monday, June 1.
We ask that you keep Larry, his wife Rose and family in your prayers.
Please check the paper for details as they become available.